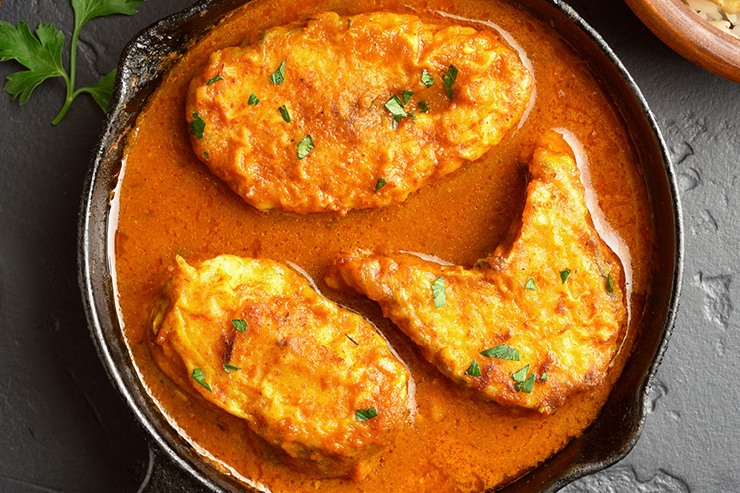 As the summer approaches, it's time to start thinking about a menu refresh! Fish and shellfish are a great way to give your menu a fresh, summery vibe! Wholesale herbs and spices can make seafood taste even more delicious, but what fish should you be offering and how to season it accordingly?
As an industry leading supplier of herbs and spices, we have over 100 years' experience in our field, passed down through generations. Here are our top tips on both fish and seasoning you should be using to ensure great tasting seafood for any occasion.
The Health Benefits of Fish
It's a delicious main dish, but did you know that fish has many health benefits? It's a source of protein that is lean on fat, packed with nutrients and vitamins such as D and B2. It's also rich in calcium and phosphorus and a great source of minerals, such as iron, zinc, iodine, magnesium, and potassium.
However, the omega 3 fatty acids are the real star of the show. These are essential fats that our bodies don't produce by themselves. Omega-3s can reduce your risk of heart disease and stroke, lower blood pressure and reduce inflammation. Fish also works wonders for your brain! Eating fish significantly reduces your risk of Alzheimer's.
The Most Versatile Fish
There are so many fish dishes that can be enhanced by wholesale herbs and spices. Here are 5 types that all chefs should consider adding to their menu.
Salmon
Rich and buttery, salmon is loved for its versatility and its surprisingly quick cooking time. It's a great option to have up your sleep. With its notorious non-fishy taste and succulent, meaty texture, it's a great way to introduce fish to your menu. Baked in a creamy sauce, or coated in a seasoning and spices crust, you can bake, boil, pan-fry, slow cook and grill salmon. When it comes to what you can pair this fish with – anything goes. Sides such as rice, salad, pasta or potatoes (jacket, chips, new) go well and when it comes to flavours, the options are limitless – lemon, Cajun, chilli, and jerk are just some of the best seasonings to use on salmon. 
Tuna
Slightly fattier than salmon, tuna is meaty and firm with a slightly salty taste. It's versatile and even comes in a can, making it easy to add deluxe sandwiches to your lunchtime menu! Skipjack tuna is the leanest of the tunas (usually found in cans.) Tuna steaks can be cooked in a number of ways, with the most popular including searing and grilling, after being sprinkled with wholesale herbs and spices of course! It's also a very popular choice served raw, in poke or sushi, if you're feeling inventive!
Cod
If you're looking for simplicity that will always go down well, cod will be a great addition to your menu. Firm and mild, cod has a slightly sweeter note within it. Light, at only around 150 calories per serving and packed with proteins, cod is a great choice for health-conscious customers. Not to mention, it is no hassle for chefs to prepare, it cooks up quickly. Atlantic and Pacific cod differ just slightly. Atlantic is a bit drier, firmer and sweeter than Pacific, which is delicate in texture, but it's typically only available between January and March. So, at this time of year, Atlantic cod has more availability. Seasoned cod works beautifully in seafood stews and chowders! It's also a great fish for baking and broiling.
Haddock
This whitefish is mild in flavour, flaky, yet meaty and a firm favourite in the UK. Haddock is a little fisher than the likes of cod and salmon, but the potency is still minimal. With a gentle sweetness, it's also highly nutritious, with most of your daily B12 vitamin allowance in a single portion. High in protein and low in mercury levels, haddock is great for pan-frying, baking, or breading into goujons and tossing into a salad!
Red Snapper
Flaky, slightly sweeter and a little more exotic than the options above, red snapper will be a tasty addition to your menu, ensuring that your guests are satisfied but also intrigued to try this different 'kettle of fish'. Red snapper can be baked, broiled and poached but we say it's at its best when it's grilled or fried whole! Whilst prepping for cooking, fill the fish with citrus flavours and wholesale herbs and spices. Wrap in foil and steam or grill until cooked through. It takes a little longer than the fillets, but if your guests are after something with a bit of an edge, it's the perfect combination. Delicious!
The Right Seasoning and Spices
The correct wholesale herbs and spices are essential to enhancing the taste of your fish dish. Of course, it will depend on how you're cooking it. Here are our seasoning suggestions:
Basil: Basil is the perfect accompaniment for fish. It's fresh and fragrant, without overpowering.
Chives: Chives make all the difference with marinades and sauces, added to butters, or sprinkled over the top of white fish during cooking. It's a great way of adding a pang of flavour and colour to seafood.
Dill: Dill is a seafood essential! It's especially good for adding a delicate kick to your fish dishes.
Marjoram: Sweet and savoury, marjoram is similar to oregano, but not quite as strong. This herb is part of the mint family, so adds a subtle hint of citrus to your fish,
Mint: A touch of mint will cut through those richer flavours, to add a tang. Just a little is enough – you don't want to overpower your seabass.
Parsley: Parsley and seafood are a match made in heaven. Dried parsley can freshen up your fish dish in an instant, plus it makes a great garnish sprinkled over the top of almost any fish.
Tarragon: Bittersweet, with a liquorice like bite, tarragon will give your fish butter a beautiful, aromatic flavouring. A staple in French cooking, it works wonders with any seafood
Thyme: Thyme is perfect for fish and seafood. However, start with a little and add more if you need to. You don't want to overpower the dish as thyme gets a lot more potent as it is cooked.
Rosemary: Beautiful and fragrant, rosemary is extremely versatile when it comes to seafood. If you're looking to add a fresh burst to your fish dishes, this is the herb you're after. 
Sage: Aromatic and earthy, the favours of sage can really enure your fish dish is something special. It's another strong, fresh and woody herb, so a little goes a long way.
Get in Touch
At World of Spice, we can help you achieve amazing flavour and traditional cuisine through our wholesale herbs and spices and seasonings. For more information about our bespoke services for trade and retail, please contact us at orders@worldofspice.co.uk, or feel free to call our team on 01277 633303. We look forward to hearing from you!
---