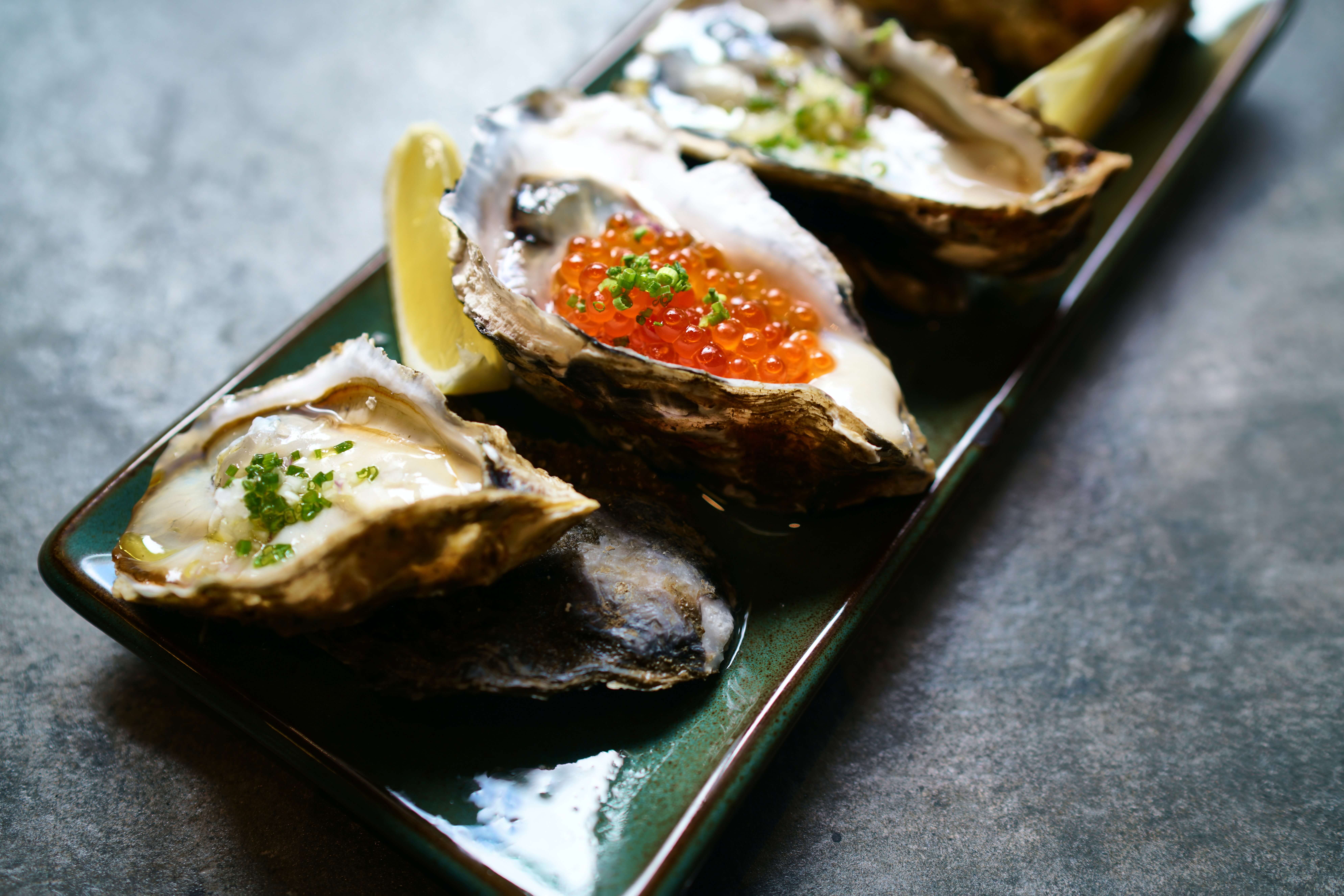 The team behind our world spices for catering can't get enough of oysters! This delicious seafood is enjoyed all over the world, yet some of the best produce comes from right near our spice suppliers in Essex! Whether you choose to eat yours with vinegar, hot sauce, or even baked with cheeses, there's so many ways to enjoy them! With national oyster day on August 5th, this week, we open the shell on this versatile snack!
What Are Oysters?
Oysters are a large flat sea creature that lives in a shell. Depending on the type of oyster you're looking to serve, you can eat them cooked and, in some cases, uncooked. Other oysters solely produce pearls. Oysters are typically found in salty or brackish coastal waters, clustering on older shells, rocks, or any hard, submerged surface. As they grow, they fuse together, forming rock-like reefs that provide habitat for other marine animals and plants. There are over 200 species of oysters found around the world. In Britain, particularly well-known oyster beds lie off Essex, Kent, Dorset, Devon, Cornwall, the west of Scotland and Ireland.
How to Season Oysters
There are many ways to season oysters. Our favourites include:
Mignonette: red wine vinegar, shallots, and cracked black pepper.
Jalapenos, coriander and lime jus.
Garlic butter.
Lemon juice.
Hot sauce – tabasco or lime habanero work well!
Fresh and dried herbs and spices for catering can make all the difference to the way you season your oysters! Some of the tastiest to use are:
How to Cook Oysters
There are few different ways to cook oysters: 
Grilled: Shuck the oysters (to shuck an oyster means to open the shell with a shucking knife to reveal the delicate meat inside), then spoon a little of your chosen sauce or herbs and spices into each oyster. Place the oysters on a very hot grill, cover and cook for around 6 minutes, until the oyster edges curl slightly.
You can also try this without shucking the oysters. Just place them cup side up on a hot, preheated grill, cover and cook for 1 minute. The oysters will slightly open. Take off the grill and open further with a knife to pry open the shell. Spoon sauce into each oyster and return to the grill. Cover and like before, grill for around 5 minutes.
Steamed: This allows the steam to cook your oysters through, without stripping them of their natural juices, locking in flavour. Although you can boil oysters, you can lose out on those natural juices, resulting in chewy, dry meat, which we wouldn't recommend.
Start by scrubbing your oysters in cold water, then place them in a steamer with boiling salted water. Cover and steam for 5 to 8 minutes, removing the oysters in batches as they open. Serve in their shells with your chosen sauce, butter or herbs and spices for catering to accompany.
Baked: If you're looking for a slightly dryer version of an oyster with all the flavour, baking is the method for you! Simply pop your oyster's halves on a baking tray on some foil, sprinkle with your seasoning and a little cheese (you can add whatever takes your fancy here). Then bake at 190 degrees for 15 minutes until the cheese is melted. Sprinkle with cracked black pepper and parsley.
Oyster Shacks in Essex
Here in Essex, we're blessed with some award winning oyster locations! The coastal towns of Burnham on Crouch, Maldon and Mersea are all known for their oysters. Here are some of the best places to sample some of the local delicacies.
Get in Touch
Here at World of Spice, we understand the importance of authentic and traditional tasting cuisine. Our seasoning, herbs and spices for catering are known for their purity and potency, full of delicious flavour to give your food the edge. Our service is cost-effective and reliable; we go above and beyond for each of our customers to ensure that you get the produce you need for business.
From bespoke blends to a choice of packaging, complete with custom labelling, our comprehensive service can help you achieve your culinary goals. For more information about our services and what we can offer you, please contact us at orders@worldofspice.co.uk, or feel free to call our team on 01277 633303. We look forward to hearing from you.
---