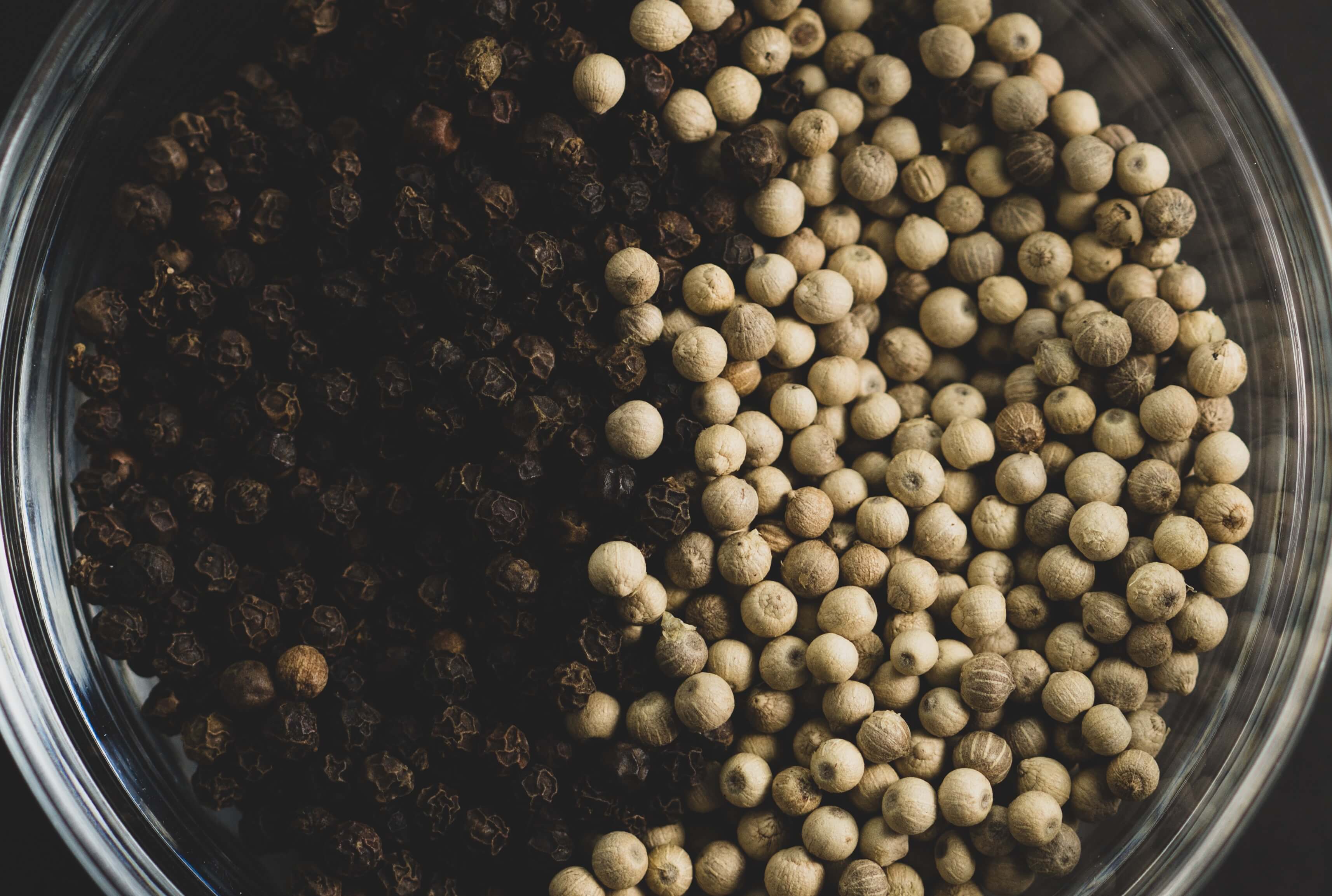 If you're Googling what's the difference between black and white pepper, you've come to the right place. Although derived from the same fruit, they so taste very different. Here, our knowledgable spice experts detail the differences between these two popular spices!
Black Pepper Vs. White Pepper
Black pepper is harvested just before the berries have ripened. Sun drying turns them dark brown and wrinkly. White pepper is harvested when the berries are fully ripe and then husked. The red, outer skin is removed, and the green inner seeds are sun-dried, which lightens their colour.
As a result, black pepper and white pepper have different flavour profiles! White pepper is hotter and spicier - it's sharp, punchy and pure. Black pepper is more robust, richer and complex, with more of an earthy richness about it.
Aesthetically, they are also different - cracked black pepper is more commonly used as a garnish and contrasts the likes of light-coloured soups and salads.
Can You Grind White Pepper?
Yes! White peppercorns can be used in the exact same way as black peppercorns. Grinding fresh peppercorns ensures delicious and potent flavour, this is because the volatile oils are unlocked there and then, creating intense flavour and aroma.
With all whole spice, the natural oils are locked inside, almost frozen in time, retaining every drop of potency. The moment the spice is ground, the oils are released into food. Delicious!
Popular Pepper Grinds
Both black and white pepper come in a variety of grinds. The larger the pieces of the dried berry, the longer the pepper retains its flavour in storage. Consequently, most chefs prefer to grind whole peppercorns when cooking. These retain flavour best because they are cracked right before use. Here are some of the popular grinds used in restaurants:
Whole Peppercorns: These offer the freshest taste. You can grind as needed in cooking or with a peppermill at the table. Typically, fresh cracked black pepper is more potent than pepper sold ground, enhancing the taste of your cuisine. Whole peppercorns are also used in pickling, marinades, stocks, and soups.
Cracked Pepper: Consists of large pieces of cracked pepper berries, which provide a burst of heat with each sprinkling. Cracked black pepper is especially good on salads, pasta or pressed into raw meat that's been rubbed with oil before cooking.
Coarse Pepper: Slightly smaller grinds than with cracked pepper, course pepper adds subtle texture, whilst retaining a more volatile aroma and flavour than the finer grinds.
Medium and Fine: Medium and fine grinds are recognised as most suitable for table condiments or baking. While they don't have the same impact as the coarser grinds, they are convenient for blending quickly and smoothly into food.
Colourful Corns
Now we've covered the difference between black and white pepper, let's take a look at some of the other types of pepper out there! Yes, there's more, it's not as black and white as you think!
Green Pepper: Green pepper is more mild than black pepper, the berries are picked in the same way, but they're specially handled to maintain their unripe qualities. The closer the berries are to full ripeness when picked, the better the herbaceous flavour.
Pink Pepper: These peppercorns have a sweeter flavour and are full in colour. The dried, ripe berries are decorative when combined with other peppercorns in a clear mill. They come from the South American Schinus Terebinthifolius plant.
Peppercorn Blends: Simply combine two or more types of whole peppercorns in your grinder for a complex burst of flavour that's a little more fragrant than standard black or white peppercorns. 
Get in Touch
At World of Spice, we understand the difference between black and white pepper and the importance of authentic and traditional tasting cuisine. Our herbs, spices and seasonings online are known for their purity and potency, full of delicious flavour to give your food the edge. Our service is cost-effective and reliable; we go above and beyond for each of our customers to ensure that you get the produce you need for business.
From top notch peppercorns, bespoke blends to a choice of packaging, complete with custom labelling, our comprehensive service can help you achieve your culinary goals. For more information about our services and what we can offer you, please contact us at orders@worldofspice.co.uk, or feel free to call our team on 01277 633303. We look forward to hearing from you.
---