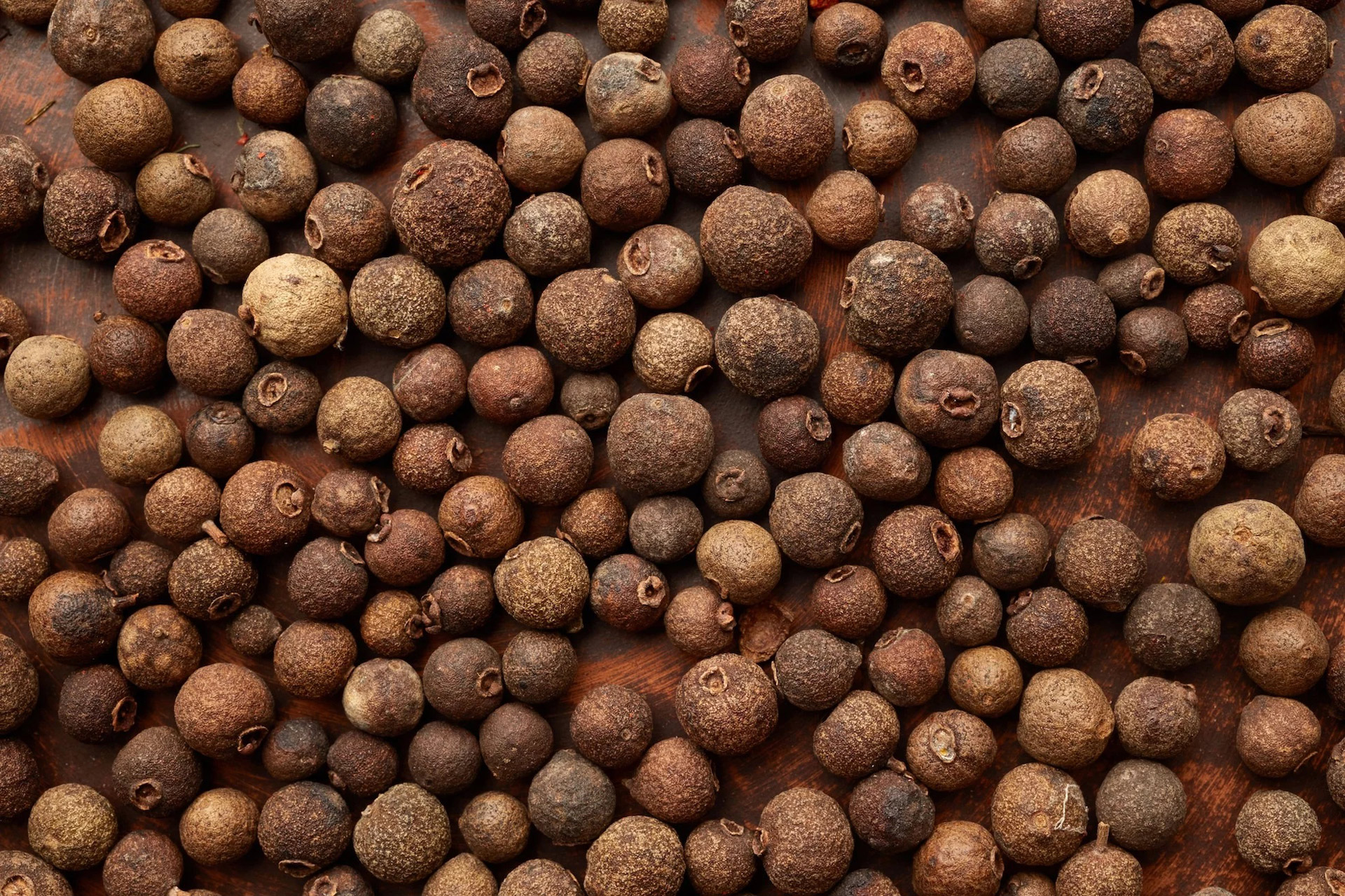 Winter is well and truly upon us! So, we thought we'd take the opportunity to discuss some of the most popular, warming spices around this time of year – mixed spice and allspice. Now, a lot of people would tell you they're the same thing, but this is not true. There is a distinct difference between mixed spice and allspice.
At World of Spice, we are experts of all things herbs and spices. With over 30 years' experience in our industry, who better to come to with this common catering query. This blog will highlight the main differences between these wintery spices, their benefits and what you can use them for!
Allspice Vs. Mixed Spice
Let us cover the basics; Mixed spice is a lot sweeter than allspice and contains a different mix of spices. Allspice is a dried berry that hasn't quite ripened yet. Many people think that allspice is a mix of spices, but it isn't. See what we mean? They're two different products altogether. Mixed spice is sweet, and allspice is more earthy and spicy.
What is Allspice?
One obvious difference between mixed spice and allspice is the quantity of spices used. Allspice (contrary to the all in its name) is made up of just one type of berry, native to the Caribbean and central America. The dried, unripe berry from the tropical evergreen tree, pimento dioica, is the main ingredient. Harvesting the unripe berry is what gives it that distinctive flavour.
Although a sweeter spice, it carries a spicy, wood-like undertone. Allspice has a strong aroma and tastes like a mix of cloves, nutmeg and cinnamon. Allspice is given its name because it tastes like a mix of these spices. You can probably see where the confusion stems. People think that it must be a mix of these spices and is the same as mixed spice.
Allspice is more commonly used in savoury dishes and is especially popular in world dishes such as jerk mixes, curry powders, tagine blends and seasoning for spicy meat. A little of this goes a long way. 
What is Mixed Spice?
Unlike allspice, mixed spice is a blend of several spices. These include cinnamon, coriander, caraway, nutmeg, ground ginger and cloves. The majority of the mix should be made from the cinnamon and coriander, and the remaining 10% made from the other spices. This is because spices like cloves and nutmeg are a lot more potent than others, so a pinch is enough, so not to overpower the mix.
Mixed spice has a warm, sweet flavour, with a touch of subtle spiciness. Mixed spice is more commonly used in sweet treats and baking to add delicious aromas to cakes, biscuits and puddings.
Which is Better?
They're both equally as flavoursome and aromatic. It really depends on the dish or cuisine that you're trying to create. As a general rule of thumb, allspice is used more in savoury cooking. World cuisine such as Caribbean, Moroccan and Indian benefit from the sweet, spicy and earthy aromas. Mixed spice caters more to dessert cooking, although that's not to say it can't be used in savoury dishes. Desserts such as pancakes, apple pie and carrot cake benefit from the warmth, aromatic sweetness and subtle spice in a mixed spice blend.
Can I make them myself?
Yes, and both are extremely simple to make. The main difference between mixed spice and allspice is the amount of ingredients needed. For allspice, you'd have to buy pimento dioica berries and finely grind them. Alternatively, you can buy ground pimento – which is essentially ready-made allspice mix. With mixed spice, there's a little more to it. The range of ingredients must be measured out to avoid a blend that is overpowered by certain spices. We suggest:
The Benefits
Having both allspice and mixed spice in your seasoning cupboard will benefit you because of the wide scope of cuisine they allow you to cover and enhance! Besides opening new culinary doors, both blends also have health benefits. Pimento berry, used in allspice, contains anti-inflammatory properties, aids digestion and has been said to boost the immune system. Cinnamon found in mixed spice, lowers blood sugar levels and has a powerful anti-diabetic effect, ginger and nutmeg aid digestion and soothe indigestion, whilst caraway is loaded with fibre and is a rich source of essential minerals. Both blends can help to keep you healthy this winter!
Recipes
So, now we've established the difference between mixed spice and allspice, here are some of our favourite recipes, so you can try these blends in some delicious dishes this winter!
Allspice
Jamaican Jerk Chicken – Simple, delicious and spicy. Bringing a little Caribbean heat to the cold winter!
Hearty Vegetable Soup – You just can't go wrong with a warm, nutritious bowl of soup at this time of year! Allspice gives this recipe the edge.
Lamb Moussaka – Packed with flavour, this take on the classic Greek dish is something different, yet a tasty addition to any menu.
Mixed Spice
Homemade Mincemeat – It's nearly Christmas and if you want your mince pies to be the showstopper this year, mixed spice is the way to go!
Spiced Apple and Pecan Crumble – A delicious take on a wintery dessert. As well as the mixed spice elements within the crumble, you can sprinkle some extra on top, or even add some in the accompanying custard or cream.
Carrot Cake – Perfect as a snack with a gingerbread latte, or as a warm dessert with custard. This carrot cake tastes incredible because of the mixed spice. An essential winter warmer.
Get in Touch
At World of Spice, we understand the difference between mixed spice and allspice and the importance of authentic and traditional tasting cuisine, whether it's savoury or sweet! As leading bespoke spice suppliers, our products are known for their purity and potency, full of delicious flavour to give your dishes the edge. Our service is cost-effective and reliable; we go above and beyond for each of our customers to ensure that you get the produce you need for business.
From tailored blends to a choice of packaging, complete with custom labelling, our comprehensive service can help you achieve your culinary goals. For more information about our services and what we can offer you, please contact us at orders@worldofspice.co.uk, or feel free to call our team on 01277 633303. We look forward to hearing from you.
---