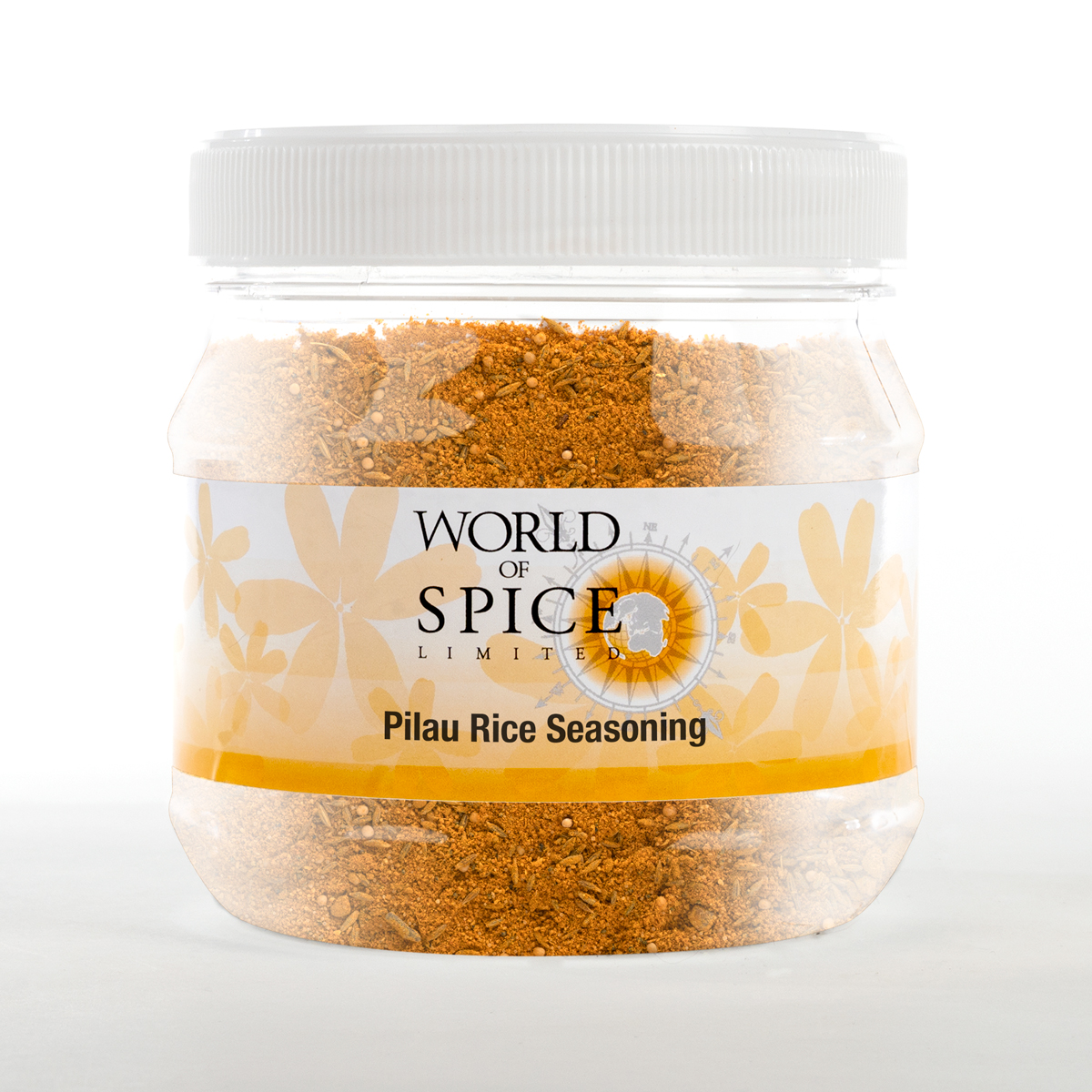 When we think of the perfect accompaniment for a curry, it's would always be rice. There's something about the textures and tastes that just complement each other - we could never imagine our tikka masala without a bowl of pilau rice! Did you know that it's the aromatic seasoning that gives pilau rice its distinct colouring and flavour? It's delicious but what is pilau rice seasoning? Here at World of Spice, we're experts in all thing's herbs and spices, so read on to find out exactly what pilau rice seasoning is all about.
The History
Although there are many different types of Pilau, or Pilaf if you're American, it actually originates from Persia and its existence pre-dates written history! Many countries have their own take on this popular rice dish, but the herbs and spices used are essentially the same. Usually, basmati is the preferred rice to use because it's easy to prepare and effortlessly absorbs all of the delicious fragrances as it cooks.
The history of Pilau is that each new area that adopted the dish added its own spin. Today, many cultures have their own words for pilau, these include: Plov, Palov, Polow, Palāu, Pulao, Polo and Pelau. Similar dishes include India's Biryani, and Spain's Paella. Pilau certainly encourages culture in its variations, and of course enjoying the tasty flavours.
How Do You Use Pilau Rice Seasoning?
Pilau rice seasoning is all about the infusion and absorption of the flavours within the grains of rice. In order to allow the seasoning to shine through, the rice must be rinsed thoroughly to remove the starch. The traditional method is to lightly toast the seasonings, herbs and spices in a pan for a few minutes, to release the volatile oils. Put the rice in the spice filled pan and stir. For a 4-person portion, add about 450ml of water or broth (meat and veg infused), along with bay leaves and a cinnamon stick. Add a pinch of salt to enhance the seasonings and bring out the flavours further. Leave to infuse for around 15 minutes, or until the water is fully absorbed. Stir on a low heat for a couple of minutes before serving. Each grain of pilau rice should taste authentic and aromatic because it is boiled with all of the seasoning that will resonate throughout the dish.
The Difference Between Rice and Pilau Rice
As you may have guessed, the main difference here is the fact that pilau is permeated with a variation of seasonings, herbs and spices. Pilau can also be cooked in a broth, whereas plain rice is just cooked in water. In some countries, Pilau is even baked after it's been boiled! Aside from the cooking methods, there is also a noticeable colour difference between the two plates. Pilau rice is traditionally a golden yellow, this is because turmeric is used to season the rice, dying it yellow upon cooking and giving it a slight tang. This is not usually added to other plain rice dishes.
What is in Pilau Rice Seasoning
So, if you're still wondering what is pilau rice seasoning, there's only one more thing left to cover. It all comes down to the seasoning. Although there are a few variations of this dish, similar seasonings, herbs and spices are always used. If you're looking for that authentic and traditional Pilau flavour, try using these during the cooking process:
These herbs should be lightly crushed with a pestle and mortar.
This group of herbs and spices can be stirred with the crushed herbs above and sprinkled into a hot pan with cooking fat, to release the volatile oils. Stir in the rice and into the salty boiling water or broth to cook.
Pilau Rice Seasoning: If you don't have a lot of time to season your rice, you can buy ready ground pilau seasoning. Ours includes Salt, Cumin, Onion, Garlic, Turmeric, Paprika, Mustard, Cardamom, Cloves, Poppy Seeds and Cinnamon.
Get in Touch
At World of Spice, we understand what is pilau rice seasoning and the importance of authentic and traditional tasting cuisine, whether it's savoury or sweet! As leading bespoke spice suppliers, our products are known for their purity and potency, full of delicious flavour to give your dishes the edge. Our service is cost-effective and reliable; we go above and beyond for each of our customers to ensure that you get the produce you need for business.
From tailored blends to a choice of packaging, complete with custom labelling, our comprehensive service can help you achieve your culinary goals. For more information about our services and what we can offer you, please contact us at orders@worldofspice.co.uk, or feel free to call our team on 01277 633303. We look forward to hearing from you.
---