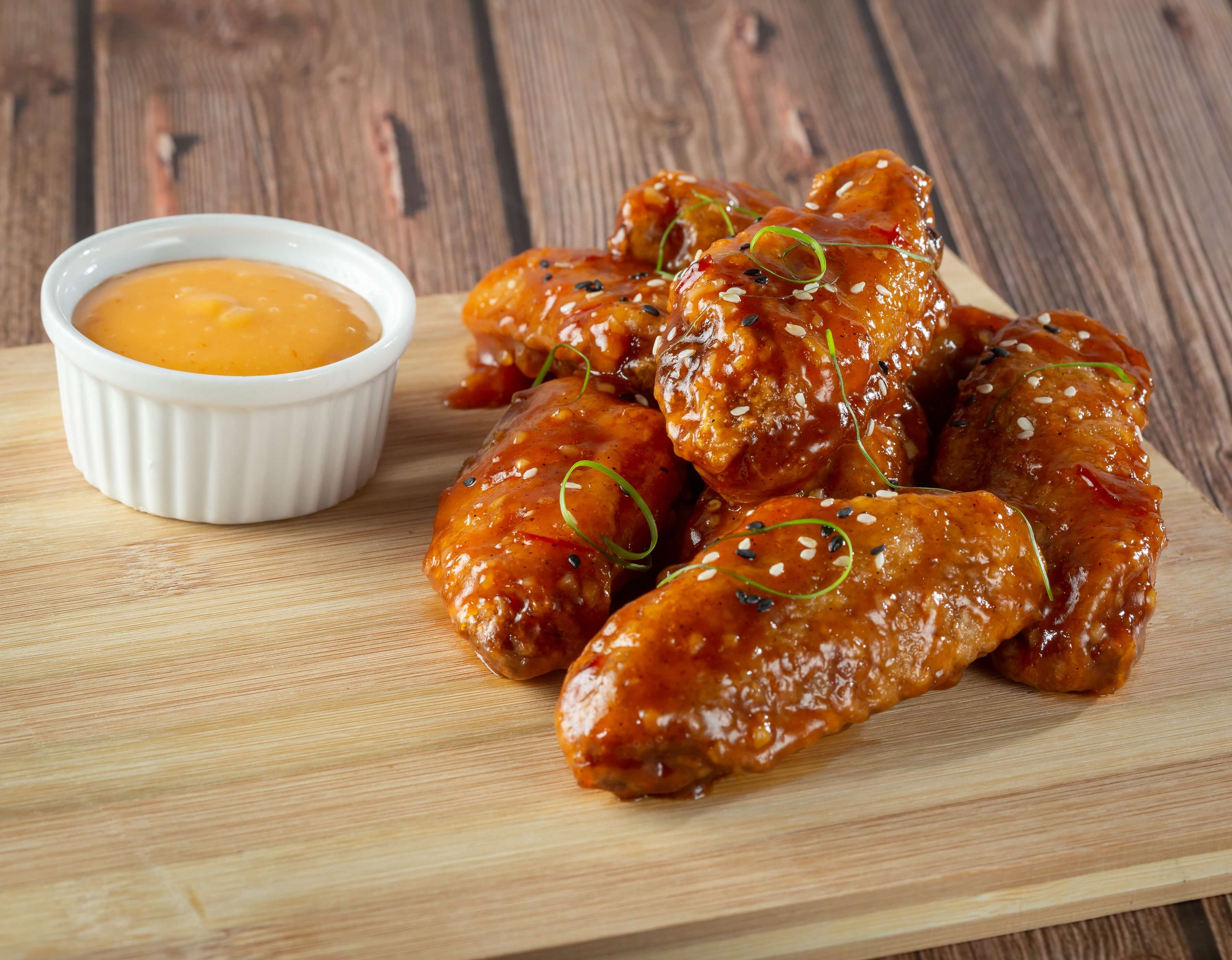 Who doesn't love chicken wings? If, like our trade herbs suppliers you can't get enough, then this week's edition is for you! With national chicken wing day fast approaching on 29th July, we discuss the best seasoning, the sauces, the sticky and the sizzling!
The Best Seasoning for Chicken Wings
Bulk herbs and spices are the only way to create that authentic flavour found chicken wings. There are so many speciality flavours from around the world that can only be made with the herb and spice delicacies found in those countries. At World of Spice trade herbs suppliers, we pride ourselves in offering everything you could need to re-create those delicious flavour combinations!
Of course, it depends on the exact mix you're trying to create, but our essential chicken wing seasoning recommendations would include the following:
Salt
Pepper
Garlic Powder
Paprika
Cayenne Pepper
Chilli
Onion Powder
Sage
Do You Season Chicken Wings Before or After Cooking? 
The answer here is both! Our recommendation would be to season the chicken wings the night before you actually cook them. Pat them dry with paper towel; this will ensure a dry wing that will crisp perfectly when cooked. Coat liberally with the herbs and spices and take time to rub the seasoning into the wings by hand. This allows plenty of time for the flavours to infuse within the meat.
Once cooked, you can then coat them in your chosen seasoned sauce! When they come out of the oven, check that the wings are completely cooked before tossing them in sauce. Our advice is to coat the wings just before serving them to avoid sogginess.
How to Get Seasoning to Stick to Wings
 Ever seasoned your chicken wings but the seasoning just hasn't stuck? The key to fully coated wings is flour! Before you toss the chicken in the sauce, coat them with your chosen bulk herbs and spices dry mix and a little flour! When you come to plunk in the sauce, it'll stick and encourage an even sauce distribution too! Cook and enjoy your sauce saturated wings! 
How to Cook Chicken Wings 
You can grill, roast, bake or fry chicken wings. If you're grilling, be sure to spray a little oil over the wings to stop them sticking to the grill. It takes about 20 minutes to grill wings and you must turn them frequently. With both grilling and frying, it's can be easy to overcook them using these methods, obliterating all that delicious flavour, so check consistently dring this process!
Our favourite method of cooking chicken wings is to roast them. Chicken wings have a higher ratio of skin to meat than any other popular cut of chicken. It's why they're so full of flavour! Roasting caramelises the skin and renders the fat, creating more complex taste alongside the bulk herbs and spices used.
Buffalo Sauce
Chicken wings without Buffalo sauce is like bread without butter! If you're looking to try an authentic chicken wing flavour, our trade herbs suppliers would recommend Buffalo wings, hailing from Buffalo, New York!
Contrary to what you may have been told, Buffalo sauce is different to standard hot sauce! Buffalo sauce is usually made of a cayenne pepper-based hot sauce, butter, vinegar, a dash of Worcestershire sauce and seasonings to taste, notably garlic powder and salt. As standard, hot sauce doesn't include butter. Buffalo sauce is richer and smoother!
Traditionally, Buffalo wings are served with a blue cheese dip to compliment the spicier flavourings! The blue cheese sauce has a sour cream base, so is mild and cooling, offering the perfect counterbalance to the tangy buffalo wings.
For the perfect recipe, all you need is:
160ml hot pepper sauce
115g cold unsalted butter
1 ½ tablespoons white vinegar
¼ teaspoon Worcestershire sauce
¼ teaspoon cayenne pepper
⅛ teaspoon garlic powder
Salt to taste
Simply combine the hot sauce, butter, vinegar, Worcestershire sauce, cayenne, garlic powder, and salt in a pot over medium heat. Bring to a simmer while stirring with a whisk. Then, as soon as the liquid begins to bubble, remove from heat, stir to ensure everything is mixed in and set aside to cool a little, ready to coat your wings, or use as a dip!
Get in Touch
At World of Spice, we understand the importance of authentic cuisine, which is full of delicious flavour! As leading bespoke trade herbs suppliers, our bulk herbs and spices are known for their purity and potency to give your food the edge! Our service is cost-effective and reliable; we go above and beyond for each of our customers to ensure that you get the produce you need for business.
From bespoke blends to a choice of packaging, complete with custom labelling, our comprehensive service can help you achieve your culinary goals. For more information about our services and what we can offer you, please contact us at orders@worldofspice.co.uk, or feel free to call our team on 01277 633303. We look forward to hearing from you.
---