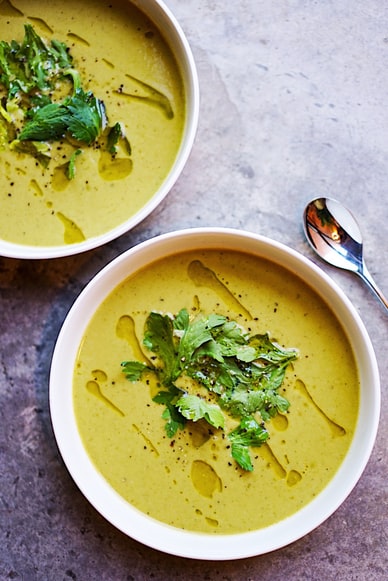 Autumn is here! That came around quickly didn't it? Well, now that the cooler temperatures and rainy mornings are gracing us with their presence, we can start making the most of a change in menu within the restaurant, or at home. Soups and broths are a firm favourite around this time of year. They're simple to whip up, nutritional, warming and taste amazing; especially with the right herbs and spices added.
As one of the leading online spice companies, here at World of Spice, we wanted to highlight the benefits of a good soup and the tastiest supplements to add to them to give them the wow factor.
Super Soup
Also known as a little bowl of comfort, soup is a staple in the colder months. Easy and quick to make, it's a great way of using up the extra veg in the fridge. Anything goes - from carrot and coriander, to chicken and mushroom, there are so many flavours to choose from. With a good base and some delicious herbs and spices, even your own concoctions will work!
Making soup is extremely cost effective since you can use whatever you have to make a delicious dish. Soups are so easy to freeze and reheat. So, you can always make a large pot, store in airtight containers and freeze to come back to.
Keep in mind that with soups and broths, it really is the seasonings that make them. We're sure you've all had an experience of an underwhelming bowl or two; you try and add a little more salt and pepper as you eat, but nothing is quite the same as cooking with the herbs and spices.
Why you Should Cook with Herbs and Spices
Cooking with herbs and spices means for a more intense and hearty flavour. Did you know that sautéing your vegetables for 5 minutes in a drop of butter, with half of the herbs and spices makes for a really flavoursome soup? By using a little fat and introducing heat to them, they'll gradually release concentrated volatile oils. When you do eventually add the sautéed ingredients to your stock to simmer away, you can then add the rest of the herbs and spices to infuse further flavour. The secret is in the sautéing. 
The Benefits
Although simple, soup is far from just an easy dish. It's full of nutritional benefits! Here are just some of them.
Nourishing: If you find getting your 5 a day hard, a bowl of soup can contain lots of vegetables, but once blended down, you'll hardly notice they are there! It's a great way to incorporate those left-over carrots and brussels into a whole new, nutritional dish. Just keep a close eye on added salt and it'll always be a healthy option.
Vitamins and Minerals: The slow cook method used to make soup ensures that the vitamins and minerals of all the vegetables are retained. No nutrients are left to waste because you also consume the broth. Most soup ingredients are full of nutrients and you can even be a little more adventurous with things like lentils and beans. Did you know that some nutrients like beta carotene from carrots and lycopene from tomatoes are better absorbed by the body when food is cooked rather than when eaten raw.
Healing: Soup is a natural healer. It's great for aiding the common cold, as the nutrition filled broth boosts immunity with essential vitamins and minerals. The hot vapour will help to warm you and clear sinuses. It also hydrates the body and is easy to digest, which makes it perfect for when you're not feeling your best. On that note, fibrous vegetables, beans, lentils and meats all ensure a healthy digestion and make for a hearty meal by themselves, providing high satiety with fewer calories than most other regular meals. Soup will keep you feeling fuller for longer and keep your blood sugar levels stable.
Our Favourite Herbs and Spices
As we've mentioned, with soups, there are so many combinations that will work, but it's the herbs and spices that make the difference between a nice taster and a second bowlful! Here are some of our favourite seasonings to add.
Salt and Pepper: We know that these count as two separate seasonings, but in our opinion, a sprinkle of salt and pepper go hand in hand when it comes to soup. Salt helps to enhance natural earthy flavours, whilst pepper brings out a subtle warmth in the dish. Don't add too much, but a little of each in a bowl is simply a necessity.
Chives: Chives are not only an excellent garnish for a bowl of fresh soup, but a few chive rolls will add a delicate and fragrant oniony aroma to your soup. We would recommend adding just before serving.
Parsley: Known for its fresh peppery taste with a touch of earthiness, parsley is a great all-rounder. In each flat parsley leaf is a natural aromatic oil, and it's this which is responsible for its unmistakable flavour. Whether you add dried during the cooking process or stir through some fresh at the end to garnish, it'll ramp up the flavour in any soup.
Bay Leaf: Known for its universal nature, the bay leaf adds an extra layer of flavouring to any soup or broth. The aromas are almost tea-like to help lighten up a hearty dish. Simply pop one in during the cooking process, let the flavour infuse and take out before serving.
Thyme: Thyme adds a fragrant element without overpowering. Earthy, yet floral, this classic herb goes well with English cuisine and really makes the world of difference to meat and potato based soups.
Oregano: If you want to give your soups a fresh, fragrant, Mediterranean kick, then oregano is the one for you. Oregano works especially well with tomato-based soups, creating a light and fragrant undertone.
Cayenne Pepper: Perfect for a little heat, cayenne pepper introduces a warm, spicy depth to your soup. Be sure to add a little, then taste as you go. You can always add more, but you can't take away.
Smoked Paprika: Similar to cayenne pepper, but with the added element of smokiness, smoked paprika works really well with meat-based soups. Add a swirl of crème fraiche to finish.
Allspice: A little more unconventional, but allspice pairs wonderfully with sweet potato-based soups. Made with cinnamon, nutmeg and cloves, sprinkle your bowlful with a dash of this for a subtle sweetness and autumnal aromas. Alternatively, a sprinkle of ginger will compliment sweet potato soups too.
Get in Touch
If you're looking to shake up your soups this Autumn, then high quality herbs and spices are the way to go. Here at World of Spice, we're here to help you! For more information about our bespoke services for trade and retail, please contact us at orders@worldofspice.co.uk, or feel free to call our team on 01277 633303. We look forward to hearing from you.
---