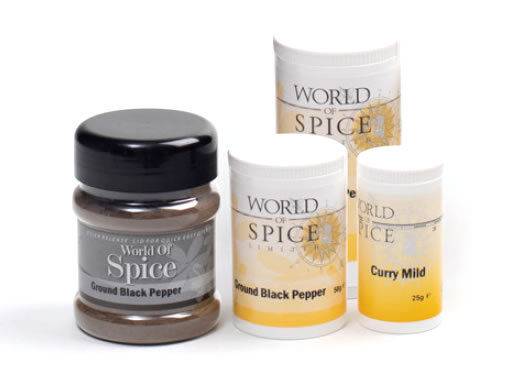 The way in which your dried seasonings, herbs and spices are packaged and stored can significantly impact their potency and longevity. As specialist, global restaurant seasoning suppliers, here at World of spice, we wanted to share our knowledge from over 100 years' experience in storing and packaging for freshness, so that you can make the most of the dried produce held at your restaurant.
How To Store Dried Herbs and Spices
The way in which you store your dried products is extremely important. Not only can it preserve them for longer, but also the food you create will consistently taste incredible and authentic. As expert restaurant seasoning suppliers, we would always suggest storing your produce in a cool, dark room, completely away from sunlight.
Generally, if stored correctly, whole spices and dried herbs will keep for 18 months, with ground produce keeping for about 1 year. In our opinion, the fresher the better, so don't hold on to them for too long. Enjoy cooking with your herbs and spices, experiment with different flavours and create some tasty cuisine for your customers!
Does Correct Storage Really Impact Taste?
The reason for seasoning, herbs and spices is to enhance the taste of your cooking; they can effortlessly lift the flavours in any dish. With this in mind, you certainly don't want to end up breaking a dish, rather than making it by adding stale seasoning to it. Some of us have learnt the hard way, we've all been there once upon a time! Herbs that are past their best or not stored correctly add nothing to a dish, except soggy pieces of nature's finest floating on the top. No one wants that!
Dried produce will indefinitely have a longer best before date than fresh produce and they also last for a considerable amount of time. In the catering industry, you'll be going through your stock at a rate of knots, so the probability of your herbs and spices going bad because you've had them too long is very slim. In this instance, it's more about being careful and considerate with how you store and preserve when you're finished using them. Naturally, if a packet is left open, the produce will lose its potency. If packaging is left open, dried, crisp herbs can quickly become stale through oxidising, from excessive air exposure. They're unlikely to make you ill, but they certainly won't taste very nice at all.
How Do I Make My Dried Produce Last Longer?
Where possible, use airtight containers, these will prevent oxygen from getting to your dried produce. This will also encapsule the potency of the seasonings, meaning that authentic flavour will stick around for longer. Again, a cool, dark pantry is the optimum storage space for any dried produce. Sunlight and heat will strip the vibrant colours out of the herbs and spices and will also impact the strength of the flavour. Be mindful of the best before dates if you have a few of the same products on one shelf. Be conscientious of your stock rotation system and use the produce with shorter dates first.
Packaging for Longevity
As industry leading restaurant seasoning suppliers, all of our dried produce comes packaged for freshness. We also allow you to choose the most suitable packaging option to ensure ultimate convenience when cooking and to accommodate your restaurant's needs.
Catering Jars: Our PET clear jars are neat, lightweight, strong and stackable. They have induction sealed lids to help your produce stay fresher for longer. They offer quick open/close lids for easy accessibility when cooking.
Cartons: Cost effective and environmentally friendly, our cardboard cartons are lightweight with an insert to protect your produce. Easy to open and shake into a dish, you can close with its tamper seal to promote longevity.
Sachets: Again, our sachets are cost effective, environmentally friendly and waterproof. These clear pillow packs make it easy to see the exact contents within, and volume you have left. These are available in a range of sizes.
Large Bags: Our large bags are great value for money, especially for use within the catering industry, with a low cost per kilogram. Cost effective, eco-friendly and available in a variety of sizes to suit your business needs.
Additionally, we offer bespoke labelling, should you need anything specific printed on your packaging. Rest assured that before your carefully packaged produce is delivered to you, we store our stock in optimum conditions to guarantee freshness from pick to pitch.
Contact Us
At World of Spice, we are expert restaurant seasoning suppliers that care about our customers. With 5-star certification across the board, we can accommodate your business needs with next day delivery, bespoke blends, specified packaging and custom labelling. Our dried produce is known for its delicious, full flavour that will set your restaurant food a world apart from the rest.
For more information about our specialist services for trade and retail, please contact us at orders@worldofspice.co.uk, or feel free to call our team on 01277 633303. We look forward to hearing from you.
---