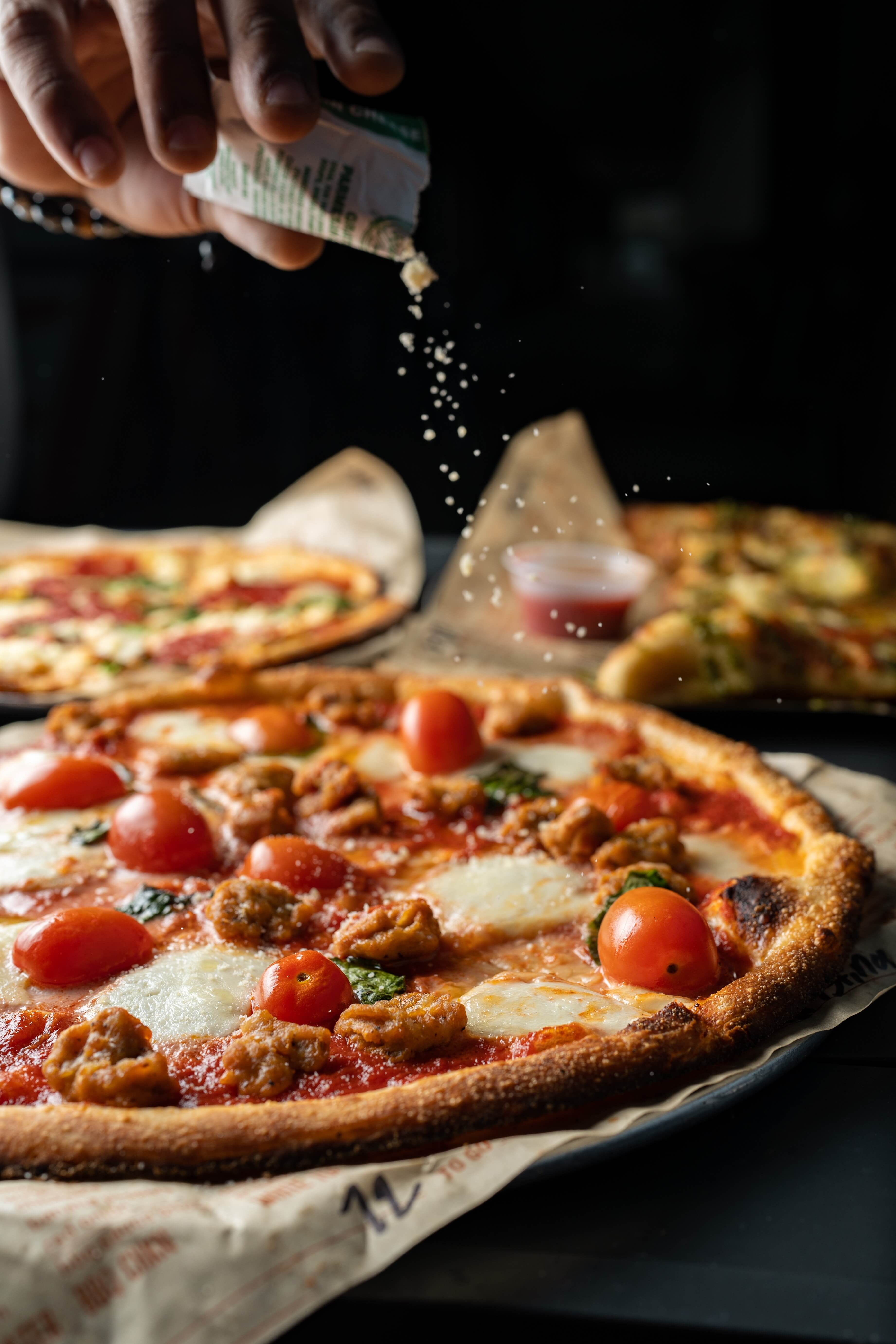 Carefully selected pizza herbs online can help to create authentic Italian tasting pizza and enhance all those delicious flavours! With national pizza day on 9th February, this week, we're focusing our blog on all things pizza. This is a day to be celebrated in one way only – copious amounts of pizza that's full of flavour! If you'd like to create the perfect pizza for your customers for this special occasion, we can teach you how!
What Herbs and Spices Go with Pizza?
Using pizza herbs online, can easily transform the simplest of pizza recipes. In Italy, it's common to serve a pizza with just marinara, a sprinkling of cheese and lashings of basil and oregano! That mixture is highlighted with the herby mix and the flavours are mouth-watering.
Herbs are essential in Italian cooking and although fresh herbs can sometimes be more colourful, it's important to remember that dried herbs are actually stronger in flavour. Here are our favourite herbs to use in pizza:
Oregano
Prized in southern Italy and Sicily, Oregano is the secret to traditional Italian cuisine. It's one of the most flavourful herbs used in Italian dishes and is the key to rich tomato base sauces. Perfect for that fragrant and fresh kick!
Basil
Known as the Italian herb, Basil is more associated with Italian cooking than any other. It's a fundamental ingredient in tomato sauces, pasta dishes and a staple in a good Margherita pizza, fresh or dried. Its aromatic nature means it can freshen up any Italian dish.
Garlic
Garlic both fresh and in powder form goes perfectly with pizza, adding a delicious flavour that's both tangy and sweet. Sprinkle in your pizza base if you're after a more complex pizza base. Pair powdered garlic with parmesan for a strong cheesy mix.
Parsley
Commonly paired with garlic because of its refreshing nature, Parsley is often used in traditional Italian cooking. Parsley is fresh and fragrant (a cousin of coriander) and can add an elegant touch to your pizza toppings.
Sage
Used frequently in northern Italy, Sage can help bring authenticity to your Italian inspired pizzas. Sage tastes wonderful sprinkled on pizza meats, and fresh antipasto plates to accompany. Perfect with a glass of wine!
Don't be afraid to try out your own combinations using pizza herbs online. When combined together, they create completely unique flavourings. Be sure to try out some different mixes to find a selection that suits your palate. Here at World of Spice, we can even create your own bespoke spice mix.
What Are the Different Pizza Crusts?
The main difference between the difference pizza crusts is the texture. The way it's cooked obviously impacts this, but it mainly comes down to whether the dough is yeasted or flatbread. Yeasted dough tends to be lighter because of the yeast and rising time. Flatbread requires unleavened dough, so no yeast. Here are some of the most popular crusts and how you can tell the differences:
Deep Dish: Pan baked pizza allows the crust to puff up, this is known as deep dish pizza. Chicago, Detroit and Sicilian style pizza are all examples of deep dish. These crusts usually cook in a cast-iron pan to achieve their depth.
Chicago Style: Chicago style has a yeasted crust. It must be cooked in a high sided pan, to allow the crust to bake accordingly and obtain a crispy texture!
Detroit Style: Detroit style pizza is rectangular and served in delicious square slabs! Traditionally, marinara sauce is poured over the topping and cheese to finish the dish. Detroit style pizza is also deep dish style.
Flatbread: Flatbread, or St Louis style pizza is thinner than deep dish pizza, however, it's not aerated at all. These kinds of pizzas work great as sharing starters because of their different structures. The cracker like crust is crispy and the pizza is usually oval or rectangular shaped.
Neapolitan Pizza: Originating in Naples, Neapolitan crust pizza is a traditional Italian dish that is enjoyed all over the world. The most famous of toppings is the Margherita pizza, which uses San Marzano tomatoes, fresh buffalo mozzarella cheese, and basil. This thin-crust pizza cooks in a wood-fired oven to allow a distinctive texture and taste.
Sicilian Style: Similar to focaccia bread, Sicilian style pizza is thicker than Neapolitan and in Italy, it's known as 'the sponge'!  This pizza soaks up the oils from the cheese, pizza herbs online and other toppings beautifully. The crust isn't as thick as the Chicago style but it's still very much a deep dish dough!
New York Style: New York pizza has a medium-thick crust and cooks in a pizza oven that uses gas heat. It's known for its juicy topping and chewier texture.
Roman Style: Also known as the thin crust dough, Roman pizza is often sold by the slice across Italy! Its thin and crispy is moreish and locals often dip the crusts in oils to make the most of every bite! Roman pizza comes in bianca (white) or rossa (red).
Stuffed Crust: Stuffed crust pizza must be made with a yeasted dough. The crust can be stuffed with whatever takes your fancy, but we would recommend adding pizza sauce and cheese to the mix to ensure a moist and irresistible crust! They can be made in any shape. Baking on a pizza stone usually produces the best results.
Flavoursome Extras:
Looking to enhance your pizzas further? Try these:
Oils: Drizzling a little oil on pizza after cooking, or even dipping your crusts in tastes incredible. Our favourites are chilli, garlic and rosemary oils. To make your own, all you need is the fresh or dried herb in question to a good quality olive oil. Seal the bottle, shake and store for 2 weeks in a cool, dark place. You'll know when the herbs and spices are starting to infuse in the oil because they will begin floating at top of the liquid and should end up at the bottom of the bottle. After 2 weeks, try it, if the oil isn't strong enough, leave it to infuse for a little longer.
Parmesan: Always have parmesan to hand. If you're looking for a quick hit of cheesy depth, grate some on top of your pizza. A light shaving is enough for plenty of flavour, trust us!
Get in Touch
At World of Spice, we understand the importance of authentic and traditional tasting cuisine. As experienced and trusted suppliers of pizza herbs online, our herbs and spices are known for their purity and potency, full of delicious flavour to give your Italian food the edge. Our service is cost-effective and reliable; we go above and beyond for each of our customers to ensure that you get the produce you need for business.
From bespoke blends to a choice of packaging, complete with custom labelling, our comprehensive service can help you achieve your culinary goals. For more information about our services and what we can offer you, please contact us at orders@worldofspice.co.uk, or feel free to call our team on 01277 633303. We look forward to hearing from you.
---