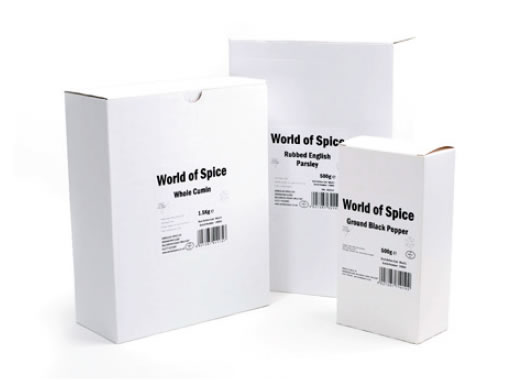 If you're thinking of buying some delicious and full of flavour private label spices, you've certainly come to the right place. Here are World of Spice, we are experts in all things herbs and spices. With over 100 years of experience passed down through generations, we know the simple tricks and tips to help your dried produce go that little bit further, setting your restaurant cuisine apart from the rest.
Supermarket Vs Specialist
In business, it's always handy to know how to stretch your money a little further. Restaurants often think they are being cost-effective by buying supermarket branded herbs and spices. Yes, at face value, a pot of oregano in your local shop is appealing – it's cheap and it looks like oregano should. Any experienced chef should know that it is the use of seasonings, herbs and spices that can truly make a dish; putting supermarket herbs into your cooking, isn't going to impact your food in the way you expect. Typically, own brand dried produce is diluted with other less potent herbs to bulk out the volume of the seasoning in the pot. It's more cost-effective for the suppliers, but you're left with extremely lacklustre flavouring. Furthermore, you end up having to use a lot more of these spices to accommodate the lack of flavour.
Although private label spices may seem a little more expensive than those you would find at the supermarket, in this instance, you really get what you pay for. The flavour will be so much stronger, meaning you'll use less produce, and it could even save your restaurant money in the long-term. If you want your dishes to taste truly authentic, then bespoke produce is the way to go.
Storage and Stock Wastage
Storing your private label spices correctly will decrease your stock wastage, allowing you to get more out of your seasonings. Keeping your produce in a cool, dark room, completely away from sunlight promotes longevity and potency. The fresher the better, so don't hold onto your spices for too long; the general rule is to use within 18 months.
Talking of stock wastage, when you order, be sure to get exactly what you need. It may take a couple of months to get to grips with the volumes of produce you're using on average, but once you've got an idea, we can accommodate bespoke delivery quantities at specific times for you. This way you'll be able to keep track of what you've got, what you need more of and what you haven't used within a certain time period. Cost-effect and convenient service, if we do say so ourselves!
Whole Spices
Private label spices will always give you incredible flavour. If you're looking to get the most flavour from your herbs and spices in a specific dish, whole spices, like cinnamon or bay leaves, can be used to infuse a dish with an authentic taste. Whole spices that are left to brew in liquid are a great way to ensure a distinct flavour resonates throughout the body of a dish. Be sure to throw away the used whole spice at the end of the cooking process.
Toast Your Spices
When adding spices to a soup, stew, curry, or sauce, you can easily develop more complex flavours and aromas by toasting the spices, helping your private label spices go that little bit further. A couple of minutes in a low heated pan will do the trick and be sure to continuously stir as they toast through. You can also toast whole herbs and spices in oil to coax more flavour out of them. This will result in fragrant, infused oil to use in your dish or later on.
Soaking
If you're adding your spices to a broth or a soup, be sure to add them in plenty of time, this way they have a chance to infuse the liquid before it's time to serve. Dried herbs always benefit from the extra time in the liquid as it allows them to hydrate and release all of the flavour into the mix.
Getting Creative
If you've got a few private label spices or other seasonings that you need to use up, you could even try making your own full-flavoured blend from the excess. It'll only take a few minutes but getting experimental with cooking is part of being a good chef. You can adjust the mix to suit your taste, and if it's something you enjoy and would like to use long term, we can make you a bespoke blend here at World of Spice.
Herbs and spices aren't just for infusing dishes either, they can be used to add vibrancy, colour and aroma in the form of a garnish. Consider using any leftovers as a garnish, adding a lovely visual element to the finished dish that is full of delicious, authentic flavour.
Marinade
Adding private label spices to meat and fish can take your dishes to the next level. Herbs and spices don't just have to be used to flavour the liquid or sauce in a dish. Seasoning the meat and dousing it in delicious flavours makes for some intense tasting and encourages tenderness in tougher cuts of meat. An easy way to get the most out of your spices when you're not making a sauce-based dish.
Get in Touch
At World of Spice, we understand the importance of traditional tasting cuisine. Private label spices are the key to that authenticity. Our service is cost-effective and fully reliable; we go above and beyond for each of our customers to ensure that you get the produce you need for business.
From bespoke blends to a choice of packaging, complete with custom private labelling, our comprehensive service can help you achieve your culinary goals. For more information about our services for trade and retail and what we can offer you, please contact us at orders@worldofspice.co.uk, or feel free to call our team on 01277 633303. We look forward to hearing from you.
---