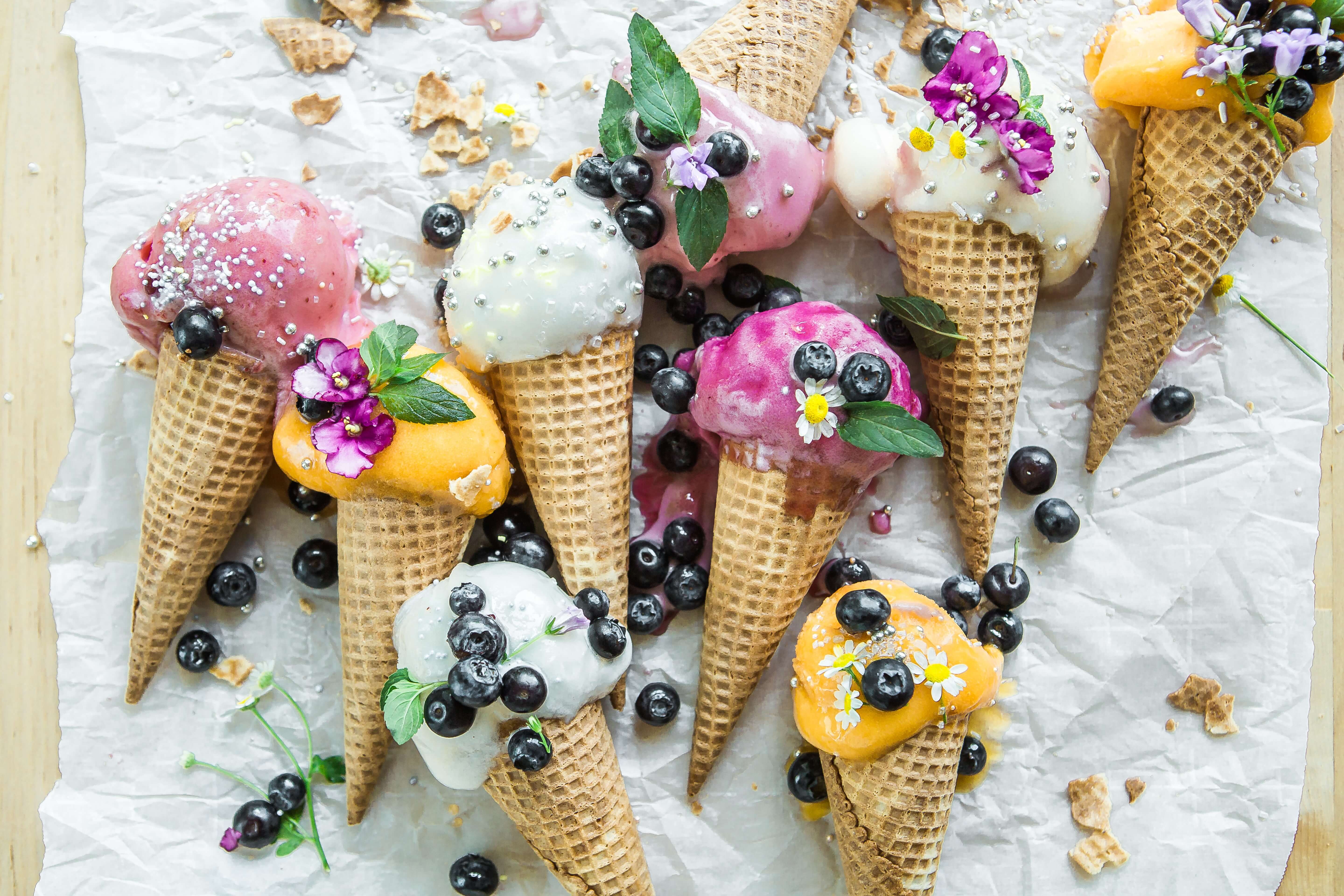 There's nothing like an ice cream on a hot day! Did you know that wholesale spices and herbs can be easily incorporated into the delicious and creamy flavours we love? Branching out into more experimental ice cream flavours is a great way to give your summer menu the edge and ensure that you are catering to a wider audience.
July 16th marks national ice cream day and for anyone who loves this summer delicacy as much as us, you definitely want to have this one marked on the calendar! As spice experts with almost 100 years of collective experience, this week, we detail how to incorporate new flavours into ice cream and the flavours that will work best on your menu.
The Perfect Scoop
Wholesale spices and herbs can transform a simple dessert into something really sophisticated! If you're looking for something other than vanilla and chocolate, flavours through herbs and spices are a great place to start. Not only do they taste incredible, but they look colourful and seasonal.
To ensure your fresh or dried produce infuses within the ice cream mixture, steep them in hot milk and cream. This way, you guarantee that the volatile oils seep into the ingredients. Then, add your eggs and sweetener and churn the chilled custard like mix in an ice cream maker. You can also use an electric whisk.
Strapped for Time?
If you don't have time to make your own ice cream mixture from scratch, you can buy vanilla ice cream and add your desired flavourings. Simply wait until your ice cream has been out of the freezer for around 5-10 minutes and stir in your chosen flavours. Freeze until solid and serve!
How Much Flavour Should I Add?
Work in teaspoons and tablespoons. The general rule is 2 tablespoons of flavouring to 1 litre of ice cream. For example, 1 tablespoon of cinnamon and 1 tablespoon of cardamom to 1 litre of vanilla ice cream. Each recipe will be different though, so be sure to taste as you go along! As we always say, you can always add flavour, but you can't take away!
Here are some of our favourite flavour combinations:
Ginger and Pineapple 
If you're after a tropical twist, ginger and pineapple will give you Solero vibes, with a little warmth! We would recommend using canned pineapple and powdered or freshly grated ginger.
Lemon, Thyme and Poppyseed
Zesty and aromatic, this combination gives you all the flavour, with a little texture too! Lemon curd works a treat when it comes to the lemon flavouring. Add thyme springs and poppy seed to the mix for a fresh and earthy flavour, with a little bite.
Mint Choc Chip
A fresh take on a classic favourite. Using fresh mint, or natural mint menthol syrup will ensure a refreshing treat like no mint choc chip ice cream you've ever experience! In our opinion, dark chocolate is a little nicer here and instils that element of luxury to finish off a three course meal.
Rosemary, Honey and Orange
Make sure you save the orange rind for this recipe! You'll need to use both orange juice and the rind for the full zesty flavour. Honey and rosemary complement perfectly; just melt the honey with your milk and cream if making from scratch!
Blueberry Basil
Subtle and fragrant, blueberry and basil taste amazing together, although they may not spring to mind as a perfect pairing immediately. A sprinkling of sea salt is needed to truly bring out these flavours and the true potential. It pairs beautifully with red velvet cake or cookies, if you're looking for a new summer dessert option. 
Cinnamon and Cardamom 
Cinnamon, cardamom and brown sugar – need we say anymore? This rich and delectable pairing is the perfect addition to your ice cream menu. When making from scratch, we suggest using cinnamon sticks and cardamom pods, so that both can infuse in the hot milk, before being stirred into the rest of the mixture. Just be sure to remove any bits from the mix before freezing. This sweet yet subtlety spiced mixture won't disappoint!
Get in Touch
At World of Spice, we understand the importance of authentic and traditional tasting cuisine, whether it's savoury or sweet! As a leading bespoke spice company, our wholesale spices and herbs are known for their purity and potency, full of delicious flavour to give your food the edge! Our service is cost-effective and reliable; we go above and beyond for each of our customers to ensure that you get the produce you need for business.
From bespoke blends to a choice of packaging, complete with custom labelling, our comprehensive service can help you achieve your culinary goals. For more information about our services and what we can offer you, please contact us at orders@worldofspice.co.uk, or feel free to call our team on 01277 633303. We look forward to hearing from you.
---