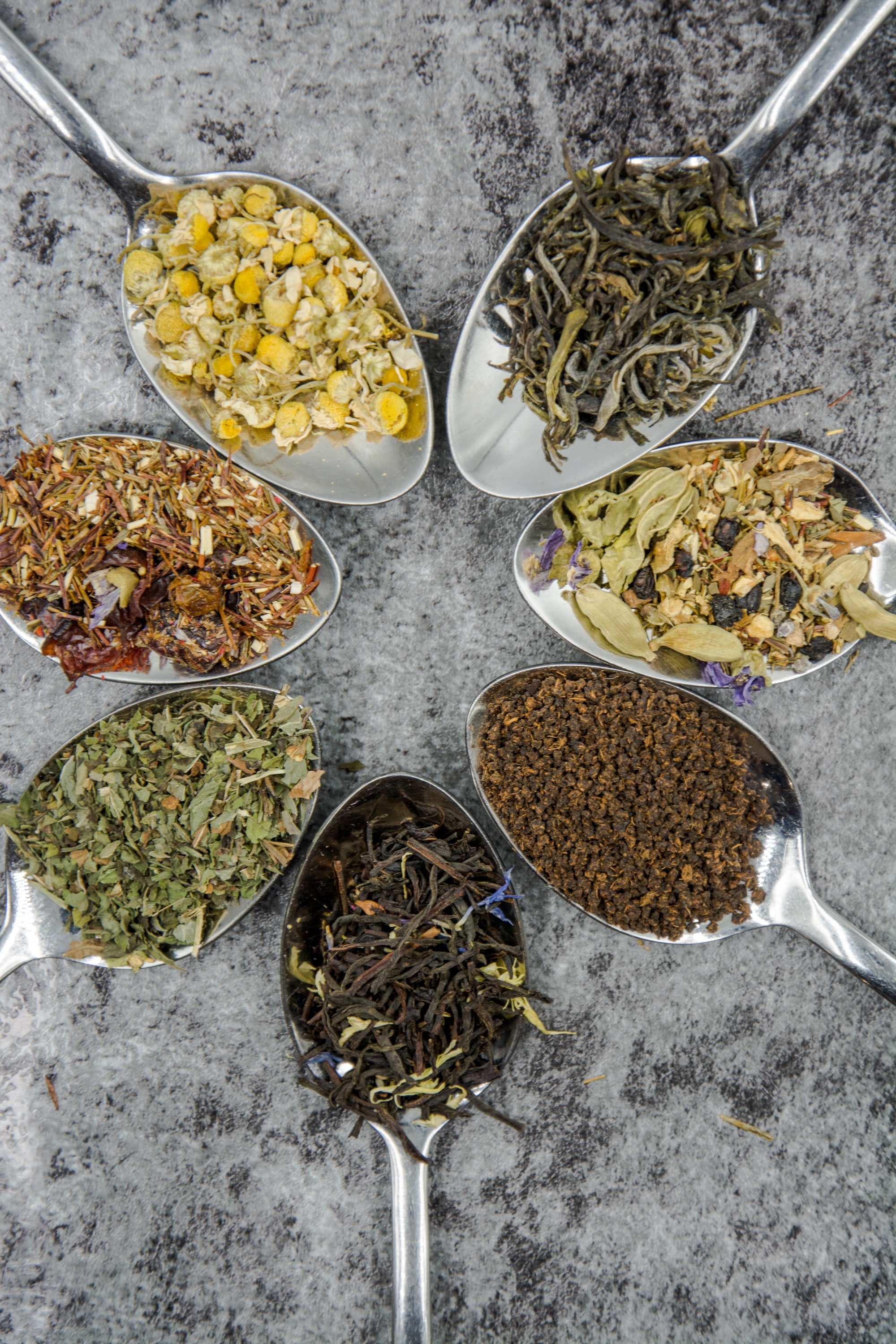 For centuries, herbal tea has been praised for its health benefits, healing qualities and of course, delicious taste. But what bulk herbs and spices work best in a freshly brewed pot? Well, you've come to the right place. Here at World of Spice, we're experts in all things herbs, spices and seasonings. With over 100 years of knowledge passed down through our family business, we know a thing or two about the importance of infusion with high quality produce. If you're looking to offer something a little different for afternoon tea at your restaurant this summer, then read on!
Fancy A Cuppa? 
They say a good cup of tea can solve anything. There are many varieties of tea that are enjoyed all around the globe and here in England, they certainly don't go amiss with a slice of Victoira sponge or two! However, there is a slight difference between herbal tea and standard tea.
Unlike green tea, oolong tea, and black tea, herbal tea is not made from the tea plant known as Camellia sinensis. Instead, it is derived from a variety of dried flowers, fruits and herbs and spices. This is great news for us because this means there are lots of different flavours that we can enjoy all year round, depending on what is in season.
The Benefits of Herbal Tea
Herbal tea has been around for centuries and has not only been enjoyed as a refreshment, but has also been used in medicines, traced as far back as 4000 years ago! Herbal tea is a popular choice for those looking to improve their health naturally.
Tea helps to create a physical, mental and emotional state of vitality and increases positivity, focus and motivation. So, as you can see, offering fresh flavours in your restaurant is a wise idea! Here are just some of the other benefits herbal tea can offer:
Herbal tea is full of antioxidants, linking to a better immune system.
Herbs and Spices in tea help to stabilise our moods, aid sleep, lower stress and even energise us.
Anti-inflammatory qualities can reduce pain and soreness.
Helps to prevent chronic disease.
Lowers cholesterol.
Helps your digestive system.
Stimulates brain function.
It's a healthy choice and almost calorie free, so drink up!
Although these health benefits are a bonus, drinking herbal tea made with bulk herbs and spices is a great way to relax and just enjoy the simple things in life!
Herbal Tea and the Herbs and Spices to Use
Peppermint
When it comes to bulk herbs and spices, peppermint is a bit of a wonder herb! It can help to relieve digestive problems, fatigue and stress! Peppermint tea contains menthol, which is a natural muscle relaxant – this encourages relaxation throughout the body. Refreshing and healthy, peppermint tea is great choice this Summer.
Cinnamon
Cinnamon spice in herbal tea is warming and delicious. It balances out blood sugar and aids the reduction of stress. Infuse the warm spice into mango or pineapple-based fruit teas for a delicious treat. Cinnamon's sweet, woody aroma is an essential in the warm evenings!
Chamomile
Known for its soothing qualities, chamomile tea is a firm favourite around the globe. Chamomile is a unique herb with notes of a delicate apple and honey combination and a delicious freshness that will revitalise during the warmer weather!
Cayenne
Cayenne tea is a great choice if you're looking for something more savoury based! Infused with cayenne pepper and ginger, this mix is great for knocking out hayfever and replenishing after a day in the sun! It's a natural decongestant and reduces any inflammation, making it easier to breathe.
Turmeric
Turmeric has anti-inflammatory properties that can soothe aches and pains from arthritis, fibromyalgia to easing the symptoms of a migraine. Traditional turmeric tea is brewed with turmeric, ginger root, coconut oil, lemon and water! Delicious and full of goodness.
Basil
Surprisingly, Basil leaves are frequently used in tea! It's fresh, yet spicy and highly aromatic. Pairing these bulk herbs with citrus fruits will only accentuate the fragrancy of the herb. Besides tasting delicious, the health benefits include reducing inflammation and helping indigestion!
Ginger
Herbal Ginger tea is probably one of the most popular tea blends enjoyed worldwide. Fresh, sweet, yet peppery, ginger contains natural elements that stimulate healthy digestion and boost serotonin levels. A little ginger each day helps to keep acidity levels in the stomach balanced. Ginger root tea also increases blood flow to the brain, resulting in better brain focus and the natural antioxidants protect brain health.
Chai
The chai tea blend contains bulk spices including cardamom, black pepper, ginger, cinnamon, and cloves. This mix tastes sweet and fragrant and is popular in hot milk – making a chai tea latte. Chai mix has been proven to help improve digestion.
Get in Touch
At World of Spice, we understand the importance of authentic and traditional tasting cuisine. Our bulk herbs and spices are known for their purity and potency, full of delicious flavour to give even your afternoon tea the edge! Our service is cost-effective and reliable; we go above and beyond for each of our customers to ensure that you get the produce you need for business.
From bespoke blends to a choice of packaging, complete with custom labelling, our comprehensive service can help you achieve your culinary goals. For more information about our services and what we can offer you, please contact us at orders@worldofspice.co.uk, or feel free to call our team on 01277 633303. We look forward to hearing from you.
---